The National Broadband Network (NBN) is an upgrade to Australia's existing telecommunications network. It's designed to provide Australians with access to fast, affordable and reliable landline phone and internet services. It will replace existing landline phone, ADSL internet and Telstra cable internet services1.
If you live in an area where NBN fibre has been rolled out and you want to keep your current fixed landline or business phone (number) and internet services, you need to move them to the NBN. Otherwise, these services will stop working once the "existing network-1" is disconnected.
Existing Network-1: Existing landline phone and internet services will be disconnected as part of the copper network disconnection. This means your current landline phone, internet service and any equipment connected to the existing network, such as monitored medical alarms, fax machines and security systems, will stop working1. To continue using your landline phone and other important services you will need to connect them to the NBN.
You need to move the following services to run over the NBN to keep them working:
Landline phones'
Fax machines
Broadband internet including ADSL and Telstra cable1
Monitored security alarm systems
Medical alarms and emergency call systems
Monitored fire alarm systems (excludes standard smoke detectors)
Contact your preferred phone company or internet service provider and discuss your requirements. Choose a plan that suits your needs.
Order your service with your preferred service provider now to allow enough time to install and connect the NBN Equipment. Your provider will talk you through the next steps, including the installation of NBN equipment and connection process. If you're not sure if you are able to connect to the NBN just check the rollout maps using our Coverage & Serviceability Checker tabs.
Locate a list of Retail Service Providers (RSP) at: nbnco.com.au/serviceproviders "or "call 1800 OUR NBN 1800 687 626
A standard installation of NBN equipment is currently free of charge in the roll-out phase. Ask your preferred provider if they have any other charges/fees.
Also ask them about the NBN plans that suit you best, which will be:
Phone only
Fixed Internet only
Phone and fixed internet bundles
There are a variety of plans available over the NBN to suit a range of needs and budgets. If you're a pensioner, you may be eligible for a discount from your preferred provider. The Australian Government requires Telstra to have a package for low-income consumers for continued access to landline phone services over the NBN.
If you're currently under a phone or internet contract, ask your phone company or internet service provider if you can move your plan to the NBN.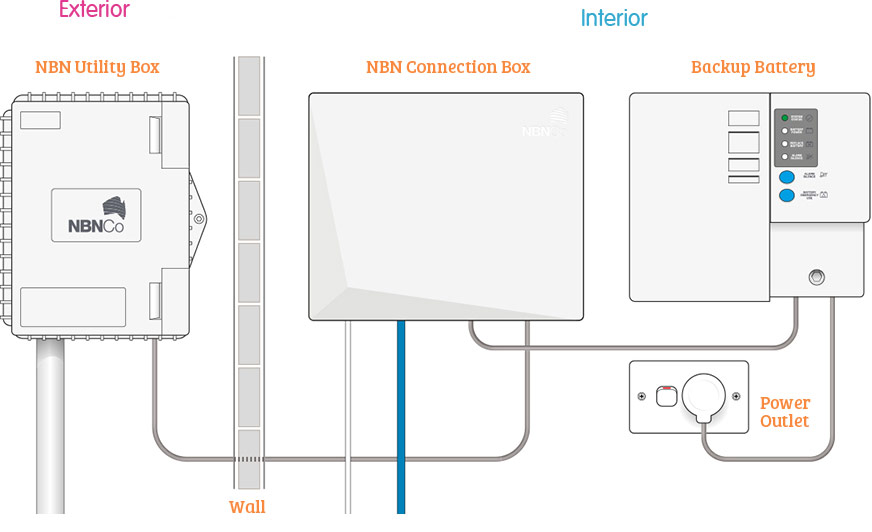 If your business already has a fibre optic cable connected to an NBN utility box outside, standard installations normally take approximately two to four hours. If not, a standard installation could take approximately four to eight hours. Non-standard installations may take longer. NBN Co will aim to keep any disruption to your business to a minimum. If you have alarms, an EFTPOS terminal/ATM or a fax, it is recommended that you contact the provider of that service before the scheduled NBN equipment installation to ensure these.
Those in remote or regional areas may receive their NBN connection through fixed wireless or satellite technologies. All fixed wireless and satellite areas will retain their copper phone lines. To find out if you live in these areas please check the rollout maps at: nbnco.com.au/switch
'Number porting' (the ability to take your number with you) rules will not change with the introduction of the NBN. To keep your phone number, ask your preferred service provider to confirm they can do this when they transfer your service over to the NBN. For more information visit: acma.gov.au
The NBN connection box comes with a power supply unit that has battery backup. This means that you'll be able to keep making phone calls for up to five hours (including a manually activated battery emergency reserve period) after the power goes out. This only applies if you are using a standard corded phone that doesn't need to be plugged into a power point, and your phone service is provided through one of the 'UNI-V' ports on the connection box. Other phone services or cordless phones are not powered by the battery backup. To ensure your phone service is supported by battery backup, please ask your service provider to supply your phone service through the NBN 'UNI-V' port, and make sure you are using a standard corded phone that doesn't need to be plugged into a power point
If you have business telecommunications services other than a standard phone line or internet connection (like ISDN, frame relay, Asynchronous Transfer Mode, Megalink and DDS), those services are currently exempt from being switched off and will continue to work until further notice. Visit: nbnco.com.au/businessmigration for more information
Ask your bank how your EFTPOS machine sends transactions to the bank and whether it will work with the NBN. If your terminal is not compatible, most major banks offer alternative models that can use an internet connection (including broadband provided over the NBN) or a mobile network.
If you choose not to move to the NBN, please ask your preferred service provider about other options like mobile phone or mobile broadband.
ADDITIONAL INFORMATION
Services for people with hearing or speech impairment. If you have a hearing or speech impairment, contact NBN through the National Relay Service:
TTY phone 1800 555 677 and enter 1800 687 626
Speak and Listen users phone 1800 555 727 and enter 1800 687 626
Internet relay users connect to www.iprelay.com.au/call and enter 1800 687 626.
For Translating or interpreting services in a preferred language other than English, please call the Translating and Interpreting Service (TIS National) on 131 450 and ask for the NBN Co Contact Centre on 1800 687 626.
Visit www.nbnco.com.au/translation for details about the National Broadband Network in the following languages:
| | | | | | |
| --- | --- | --- | --- | --- | --- |
| Arabic | | | Macedonian | | |
| Chinese (Traditional) | | | Indonesian | | |
| Chinese (Simplified) | | | Punjabi | | |
| Croatian | | | Serbian | | |
| Filipino | | | Hindi | | |
| Greek | | | Spanish | | |
| Italian | | | Turkish | | |
| Korean | | | Vietnamese | | |